When it comes to kitchen and bath remodeling, the trends are always changing. If you're looking to remodel your kitchen or bath here are some great ideas to get you going.
Let's start with the key takeaways from the 2021 U.S. Houzz & Home



Also, the 2020 takeaway report is full of additional insight and trending.

Predicting what may be Hot or Not — For example, Will my countertop material of choice look dated in ten years? If you're someone who is always looking for the latest trends on what's hot and what's not, this article is for you — read on.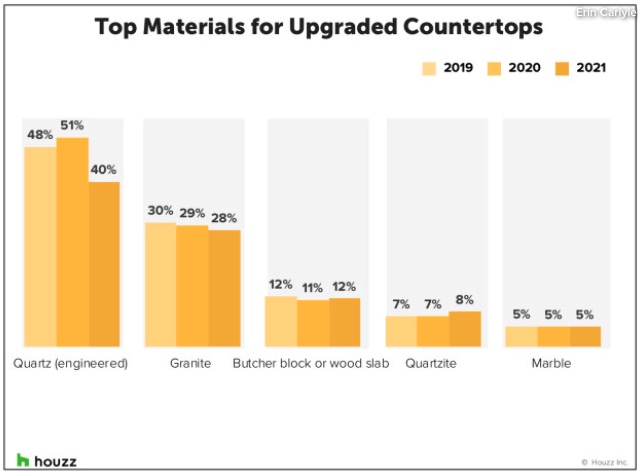 What's trending in kitchen countertop material — as revealed in the 2021 U.S. Houzz Kitchen Trends Study.

Kitchen Designer Predictions
Check out this recent post in Southern Living magazine regarding kitchen design trends designers predict will be everywhere in 2022.
Old is New
Green Everything
Kitchens as Multipurpose Rooms
Warm and Dark Tones
Slab Backsplashes
Cottage Kitchens
Matching Cabinetry & Hardware
Cheery Yellows
Grand Millennial Style
Green Marble
Even More Accent Lighting
Pattern Mixing
Porcelain Countertops
Curvy Everything
Smarter Appliances
Cozy Minimalism
Project Assessment
Choosing a kitchen countertop is one of the joys of remodeling, even if the entire remodel is nothing more than changing the kitchen countertop! At Elite Stone Fabrication we offer a process for making an assessment and choosing colors and stone types. Hopefully, this will help you work out some of the details of what will make an excellent countertop for your kitchen.
One of the first things to determine is whether the type of countertop you are interested in will best suit the kitchen. A careful assessment of the space, layout, and lighting of the kitchen area should be completed. For example, a dark countertop in a kitchen without natural light can be more dismal than dramatic.
When it comes to kitchen design, countertops are of prime focus. Ideally, the choice of the countertop should come before the cabinetry, the flooring, the lighting, or any other options within the kitchen designs. But, even during a remodel, the countertop can be matched to accommodate any situation. Countertops generate the most excitement in kitchen design.
Visit the Elite Stone Selection Center in person, or browse our Virtual Inventory.
Google Maps  941 Meyers Drive Lisbon, IA 52253.
Contact
Personal Preference
Like many other things, a remodel project is more about personal preference. Perhaps you should worry less about what is in style and more about what you love. If what you choose makes you want to do cartwheels in your new kitchen or bath, mission accomplished. Let us help you reach your project goals.