If you are looking to refinish your home office's desk or are installing a new built-in workstation in your home, consider natural stone for the desk's surface. Whether a home or commercial office, study, or library, the luxurious looks of natural stone give a stunning first impression, boasting confidence and elegance.
Natural Stone provides many advantages such as:
• Scratch and Dent Resistant – if you write and don't protect a wood surface with a blotter, you are more likely to see dents and scratches than with natural stone.
• Easy to Clean – Natural stone surfaces are easy to clean with either specialized cleaners or plain water. When drinks or food are spilled on wood surfaces, it can harbor bacteria even if you wipe it down quickly while scrubbing can dull or scratch the finish.
• Long Lasting – With proper sealing, stone desktops can last far longer than wood. Heat from laptops won't affect the finish or look of a natural stone desktop.
• Versatile Look – Wood is usually either painted or stained leaving the color the focus. Natural stone comes in a variety of colors and every slab's pattern is unique so you can pick the look you want for your home office with the beautiful designs that stone offers.
Your dream desk, coffee, or  end table inspiration will come to life at our fabrication center and delivered to your home or office by our team of experienced installers for setup and inspection.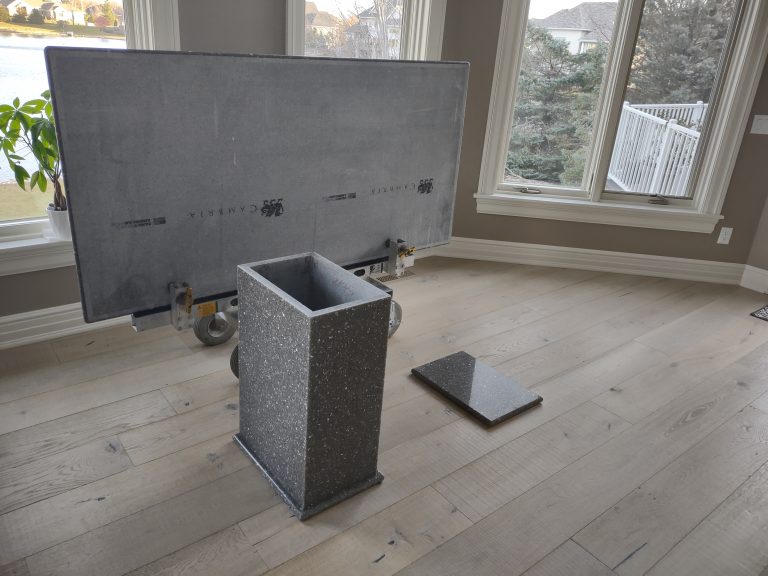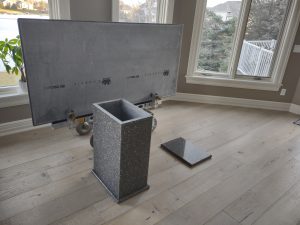 Visit the Elite Stone Selection online or stop in to see our selection of slabs and remnants for your project.
941 Meyers Drive
Lisbon, IA  52253
319-450-0777
[email protected]
Selection Center Hours
Monday-Thursday: 8am – 5pm
Fridays: 8am – 4pm
Saturdays: 10am – 1pm
Closed Sundays