Configuration
Before you buy, consider the orientation of the kitchen sink, the number of sink bowls, and the depth and number of holes your sink requires for fixtures.
Pro tip: Keep your dishwasher location in mind when shopping for a new sink. The ideal dishwasher location depends on whether you're right-handed or left-handed. The key is to be able to hold dirty dishes with one hand while rinsing with the other and then placing them easily in the dishwasher. For double sinks, having the garbage disposal installed on the same side as the dishwasher increases efficiency.
A sink with a standard radius has traditional rounded corners and interior edges. A tight radius sink has a much less rounded shape, while a zero-radius sink has straight, 90-degree corners and edges. While a zero radius sink generally has a deeper basin, many prefer a tight radius sink, as it combines the modern look of a zero radius but is slightly easier to clean.
Most undermount sinks have a deeper sink basin. The depth of your sink basin is also affected by the thickness of your countertop. If you have a 3cm thick countertop which is 1 1/4 you will get that much more depth. Overall, a deeper sink is more desirable. Drop-in sinks are usually not as deep as an undermount sink. Drop-in sinks are usually 6 inches deep compared to 8 inches or 9 inches for undermount sinks. For this reason, a lot of people prefer an undermount sink over a drop-in sink.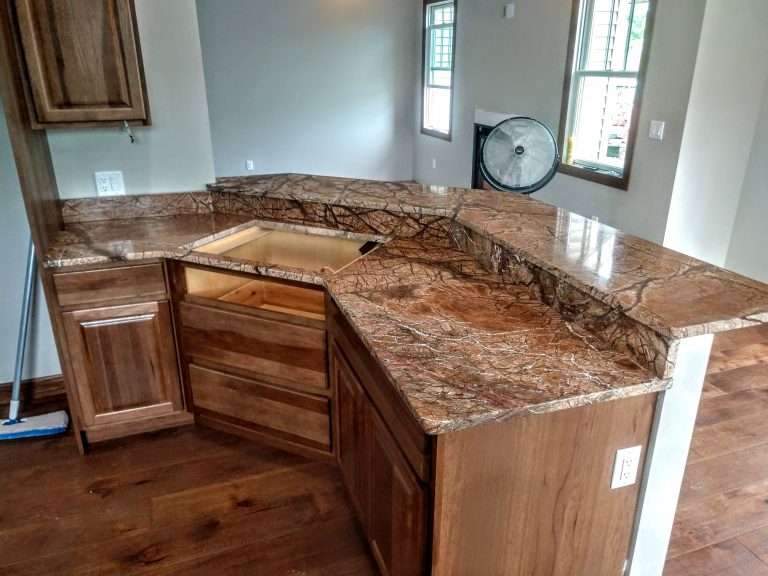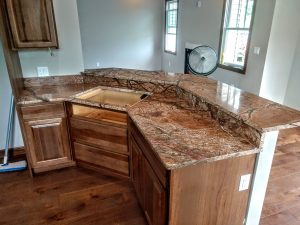 Size
The interior width of the sink's cabinet determines the maximum dimensions for your sink. Most base cabinets come in widths that accommodate the standard kitchen sink sizes. A 30-inch wide or a 36-inch-wide cabinet are most common. The height of the cabinet can be customized, but 36 inches is average. A typical 33-by-22-inch sink will fill a 36-inch base cabinet. If you're replacing a sink, make sure it fits the existing cutout. If the cabinet allows, you may be able to install a larger sink by expanding the cutout.  A farmhouse sink may require a special cabinet size.
It's crucial to install a sink that can be integrated into your kitchen countertop easily. The sink change impacts the faucet configuration, and so it is likely that the faucet will have to be replaced, as well.
Number of Bowels
Most configurations balance their bowl sizes in ratios of 50/50, 60/40 or 70/30. Single bowl sinks offer plenty of space for large-diameter dishes and oversized pots. They can be as wide as 42 inches. Double bowl sinks provide room for separate tasks such as washing and rinsing dishes, food preparation and cleanup. They can be as wide as 48 inches. If your family accumulates a lot of dishes, you'll need a deeper basin. If you maintain a busy lifestyle, you may not have time to take care of a special surface. In general, a kitchen sink should always be durable and able to withstand deep cleaning. However, it is also important to pick a sink made of a material that complements the rest of your kitchen style and fixtures. See examples for Surfaces by Pacific sinks.
Material
When shopping for a new kitchen sink, how it will be used will have an impact on the materials you will be able to choose from. Kitchen sink material types may include stainless steel, granite or quartz composite, fireclay, or copper. In general, a kitchen sink should always be durable and able to withstand deep cleaning. However, it is also important to pick a sink made of a material that complements the rest of your kitchen style and fixtures.Consider these features:
Stainless Steel:
The most popular kitchen sink material, stainless is available in a wide variety of styles, including drop-in, farmhouse and undermount.
It provides an excellent balance of cost, durability, and ease of cleaning.
Higher quality stainless steel sinks are made of 18 to 16 gauge to prevent dents and scratches. Gauge is a measurement of the thickness of stainless steel. The lower the number, the thicker the material.
Look for vibration-damping foam insulation or pads on the underside of the bowls to deaden water drumming.
Brushed satin finishes tend to hide water spots and scratches.
Granite/Quartz Composite:
Made of a mixture of 80 percent quartz and 20 percent resin to provide a sturdy, low-maintenance surface.
Scratch, stain and heat resistant; available in drop-in, farmhouse and undermount.
Available in a range of colors.
Withstands hot cookware.
Fireclay:
A hard-fired clay material, it's mainly used in farmhouse style sinks.
Similar in appearance to cast iron. Has a smooth, glazed, non-porous surface.
Extremely durable material. Fireclay resists chips, scratches and acid damage.
Primarily sold in white, but multiple colors and textures are available.
Copper:
Highly durable metal that does not rust or tarnish; requires little maintenance.
Surface takes on an aged patina over time.
Each sink is individually handcrafted and unique.
Copper's anti-microbial properties kill bacteria and viruses.
Plumbing
Sinks are installed by countertop installers who typically do not do the plumbing. As a value-added service, Elite Stone Fabrication offers plumbing through their division called Elite Plumbing. This enables superior project coordination. Customers are given the choice to use our plumber or hire their own plumber. It's also important to choose the right faucet for your sink based on the functional usage. Here is some helpful suggestions from installer SSD.
Budget
Drop-in sinks are (generally speaking) the most cost-effective kitchen sink option on the market today. The variety of construction materials available to drop-in sink manufacturers allows them to come with an attractive price tag. Moreover, the installation process is easy which keeps the cost low. It is also important to note that cheaper sinks come with a trade-off. Lower quality materials used to manufacture a cheaper sink can cause the sink to rust and not last very long. For example, 304 stainless steel contains less chromium (18%) which means it is more susceptible to corrosion or rusting.
Conversely, 430 stainless steel has about 30% chromium which will provide better corrosion or rusting resistance. Sinks using better materials such as 430 will cost more compared to the 304 versions. If you're looking for something easy and budget-friendly, choose the drop-in sink or a cheaper undermount. If you're wanting to add a splash of luxury to your kitchen, choose the undermount.