When buying new countertops most homeowners also want to upgrade their sinks and faucets. It's a matter of both aesthetics and design. Countertops are probably the number one item that adds to the beauty and comfort of your kitchen.
If you're in the process of redesigning your kitchen, think about which sink style is more compatible with your countertop stone material. Choosing the right kitchen sink can be key to giving your kitchen a fresh look. When buying a kitchen sink, think about the installation type, size, material, and shape that will best serve your needs. Topics covered in part 2.
Undermount Sinks
Advantages:
Give you additional countertop space. Easy to clean since there is no lip (rim) getting in the way — Simply wipe your debris straight into the sink.
Greater aesthetic appeal to more homeowners. Since this sink style means more high-end countertop materials and kitchen. features, such as a kitchen island, this is also more appealing to homeowners.
They are very much "on-trend" right now (but remember that things always go out of style).
They tend to be built from higher quality material.
Disadvantages:
You cannot use an undermount sink with a laminate countertop.
Water will ruin your countertops underneath the laminate layer and cause the wood to expand making it unusable and unsafe.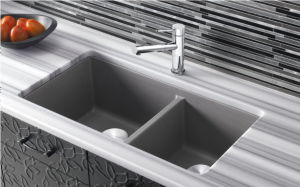 Drop-in Sinks
Drop-in sinks, often referred to as top-mount sinks, are highly popular because they're affordable, flexible, and easy to install. It's a self-rimming variety — in other words, the rim sitting on top of the countertop will support the weight of the sink. It stays in place thanks to caulking along the edge and metal clips that provide additional security underneath the countertop.
Sometimes, there will be extra supports tucked under the countertop to ensure everything stays in place depending on the type of sink material.
Advantages:
Easier to install
Better sink to clean
Compatible with all solid surface countertop materials
Typically much more budget friendly, and compatible with laminate countertops.
Disadvantages:
You'll have to clean the lip edge around the installation site, which can get dirty.
They do not have much in the way of resale value and may be considered aesthetically outdated.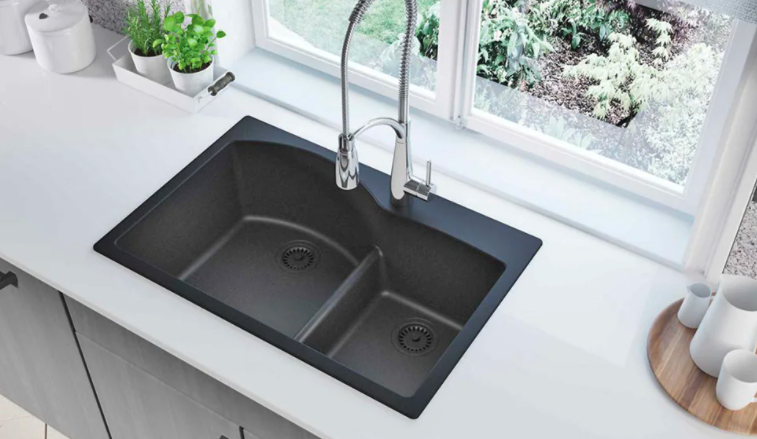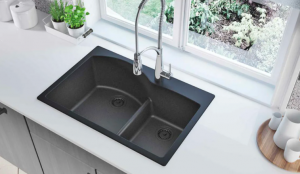 Farm Sinks

Farmhouse sinks, also known as apron sinks, feature a wide expanse and deep bowl with an exposed front. These were beneficial for meal prep and clean-up for traditionally large agricultural families. Farmhouse sinks in a modern era still adhere to that basic simple, but ample and efficient, design. The front side of farmhouse sink basins are exposed and are often set out from the edge of the cabinetry in the kitchen. This provides an interesting visual and the material chosen for the farmhouse sink can create a beautiful contrasting aesthetic with the cabinets. A certain type of base cabinet is typically required to support it. Some styles can be retrofitted to your existing cabinets.
Advantages:
Farmhouse sinks have a deeper basin and are typically wider than traditional sinks.
It's a great fit for homes with large families and homeowners who do a lot of entertaining.
They look great and add a great aesthetic to a kitchen
Depending on the chosen décor of your new home, a farmhouse sink can be exactly what is needed to cap off an interior design.
A farmhouse sink is versatile
They come in a range of sizes, can be double or single basin, and are offered in a variety of different materials. The size of your farmhouse sink should be determined by the amount of space available.
They are available in a wide range of materials. This style allows for easier cleaning of larger items like pots and pans.
Farmhouse sinks can be made of stainless steel, fireclay, copper, and many other materials.
Disadvantages:
They tend to be more expensive.
Due to size and a more difficult installation adding more cost.
They require more space
Additional counter space will be consumed by the sink area as well as extra cabinet space below.
the apron-front of a farmhouse sink will hang past the edge of the cabinets and can be susceptible to scratching, nicks, and dings, depending on the chosen material for the sink basin.
A farmhouse sink needs extra support.
This will restrict storage space below the sink even further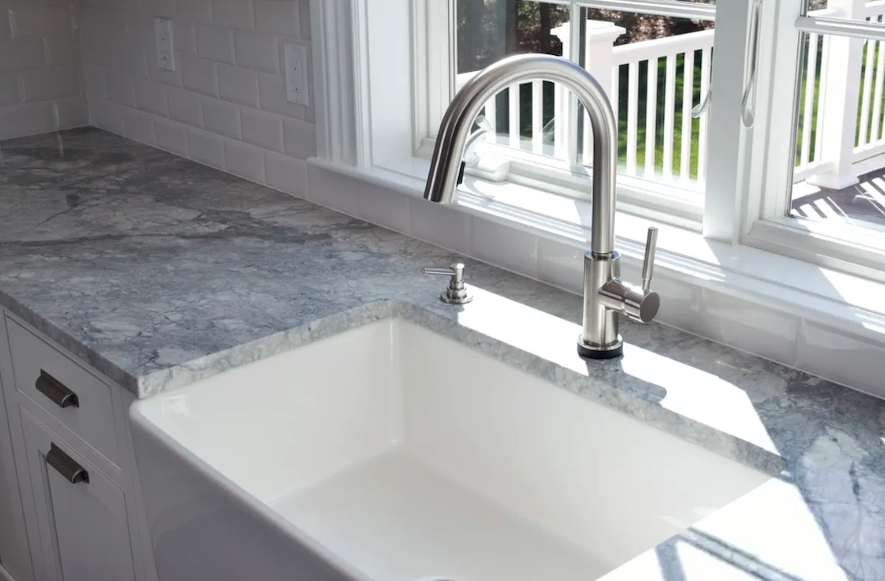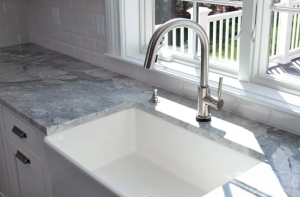 Farmhouse sinks are a highly functional type of sink design that will truly never go out of style.They create amazing benefits for homeowners and can be the perfect accent piece for a customized dream kitchen in your new home.
While all three sinks are ideal for homeowners, at the end of the day, the choice must be made based on budget and time. If you're looking for easy and affordable sink installation, a drop-in sink is ideal for you. However, if you have the time and love the idea of a sleeker kitchen, an undermount or farm sink is the best option.