What is Remnant Material?
A remnant is a small/medium piece of stone that has been cut from a larger slab. Often when we cut a countertop from a slab of granite, marble, or quartz, there are unused parts of the slab that become remnant pieces. These remnants may be used for smaller projects, such as vanities, shower seats/ledges, fireplace surrounds, or furniture pieces.
Countertop stone remnants may range in size from very small to large enough for a countertop. Slabs are full pieces of stone that can be completely customized. You do not pay for the price of a full slab, only the price for the square footage your project consumes from each slab. We have a full selection of slabs and remnants on display at our selection center located at 941 Meyers Drive in Lisbon. You may also view our complete online inventory of over 100 different stone material types.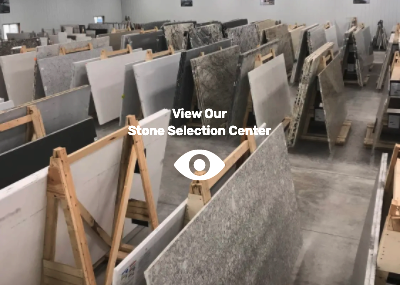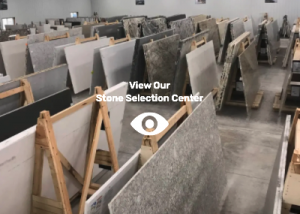 Repurposing Remnants
Remnants from natural stone installs present an opportunity for creative applications that go beyond the countertop. Visit the Natural Stone Institute for inspiration on how to use natural stone remnants on other projects throughout the house.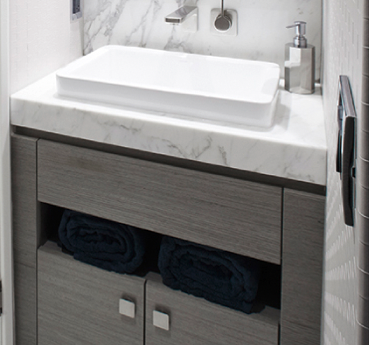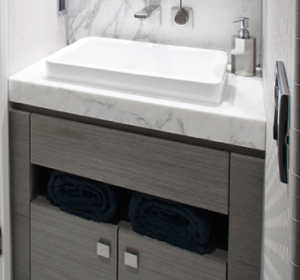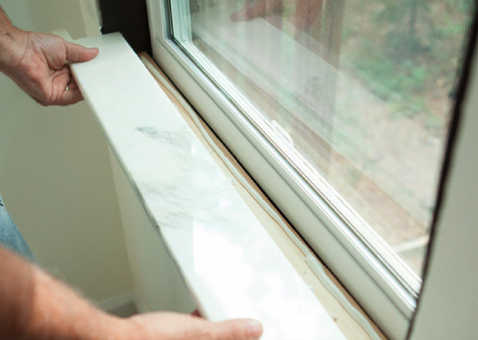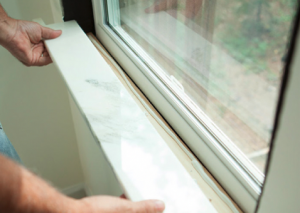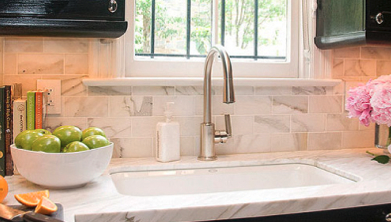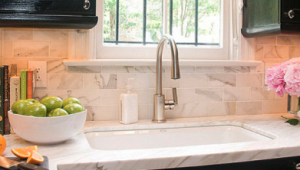 A major selling point for repurposing natural stone countertop stone remnants is reducing the amount of product that goes to waste. Making use of every bit of stone that has already been quarried and transported ensures that there are no extra costs associated with shipping new surfaces for furniture. Plus, repurposing natural stone remnants is a great way to coordinate the design of a home from room to room.
Granite Remnants
We have many different granites and marbles to choose from and the selection changes often. It is more difficult to find enough material for a kitchen since it requires more material. "L" shapes or any shape that requires seams must come from granite from the same slab or a slab from the same block to ensure that the colors match.  More material may be required if the stone is directional. You want to make sure that your granite countertop flows through all the pieces in your kitchen.
Regarding Seams
Because granite is a natural material and is mined from the quarry in blocks of no more than 10 feet in length, you may have one or more seams. The visibility of seams depends on the granularity, color, and pattern of the granite. With a small uniform grain, the seam will not be as apparent as a larger varied grain. A seam in a dark color will be less apparent than a seam in a light color. A dramatic pattern with swaths of color will show the seams more readily than a uniform pattern.
Seams are made where two pieces of stone are put together. The seams are joined with an epoxy that is mixed with the color that matches the stone. The joined area is then smoothed, leaving only a very thin line visible. It is not recommend seaming to remnants together, as it's often difficult to find two remnants that are identical to each other in color and pattern.
Remnant Costs
Some may consider a countertop stone remnant a leftover or unwanted waste from a previous project. While remnants do originate from larger slabs, they are not necessarily waste. While remnants are smaller pieces of marble, granite, quarts, or other natural stone, this does not necessarily make them cheap products. Some remnant sizes may be closer to the actual size of your small project.
Keep in mind that while the size has decreased, thereby reducing waste cost, the value of the actual stone remains the same. It is still the same premium quality product as the slab it came from. A common misunderstanding about remnants is that they are cheap quality leftovers.
Also keep in mind you would still have a fabrication cost for the labor of cutting, edging (if chosen) and installing the remnant material countertop just as you would if it started from a full slab.
Project Preplanning
The best and most cost-effective way to search for a countertop stone remnant is to search for a stone that best fits your project and minimizes the amount of waste! If you can find a stone in your pre-determined price range that maximizes the stone used and minimize the amount of waste left over, this can usually lead to the best priced remnant. It also helps to pre-determine your budget before shopping for a remnant.