Which stone product is best for your new countertop? It will be something you look at every day and needs to be coordinated with your overall room environment. It's important to match the surface material with your intended usage. It will also depend on its durability & maintenance requirements and of course your budget.
One of the first decisions will be whether you select a natural or engineered stone. Natural stone is quarried from the earth in large blocks which are then sliced into slabs and polished on one side. No two slabs are alike, which gives every project an original look. Engineered stone is a man-made material typically composed of quartz crystals mixed with a resin binder.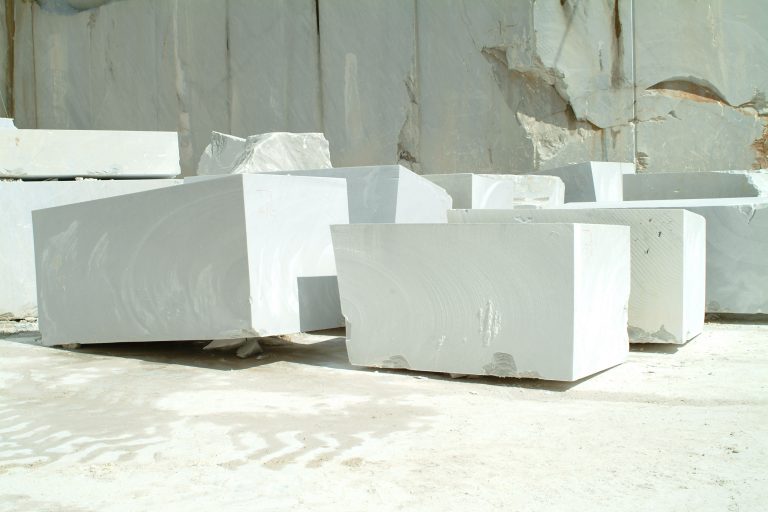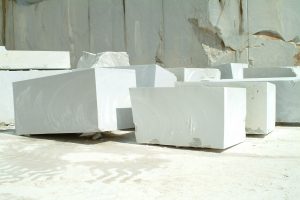 Common natural stones include granite, marble, and quartzite
ESF currently carries 27 different material types  for countertop stone which may be experienced at the selection center located at 941 Meyers Drive in Lisbon, Iowa. Otherwise, enjoy your selection from our online visualizer.
Natural vs. Engineered
It is very important to work with a supplier where you can see the entire slab if you are considering natural stone. Seams will be visible with natural stone, especially if the stone has veins or directional movement. Take a virtual tour of our selection center.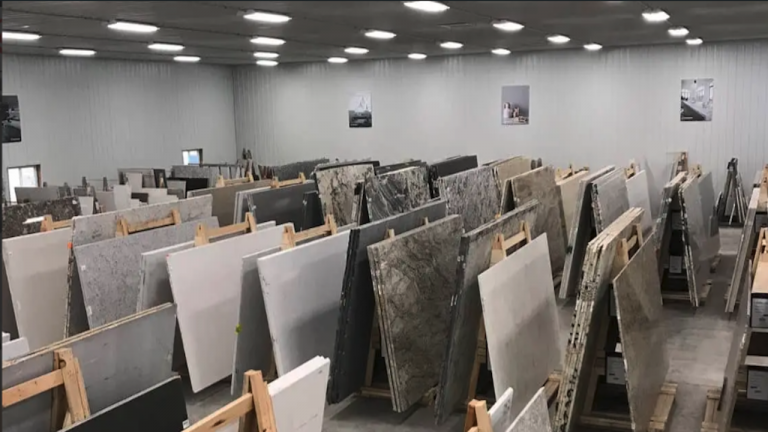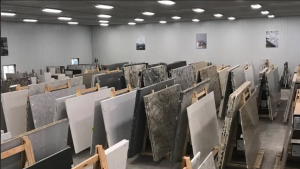 ESF selection center
Engineered stone is very consistent in look and pattern. Seams may be easier to hide in engineered stone, however the stone may be more susceptible to sunlight and discolor over time.
Maintenance and Durability
Another important factor that you will encounter each day is caring for your countertop stone. If this is a high traffic kitchen where you do a lot of cooking, you may want to consider granite or quartz. They are the most heat, scratch, and chip resistant, and require less ongoing maintenance. Excessive heat can cause damage to marble and quartz.
Some materials are better than others when it comes to spills. Granite is very low porous and stain resistant. Quartz and marble are both slightly porous and can be subject to stains if overdone. Immediately wiping the spill will help prevent the stain from setting in.
Having your stone properly sealed by a professional fabricator will increase the long-term stain resistance of the stone. Visit the ESF product care site to learn more about maintaining the life of your stone material. Quartz and granite do not require any sealing.
Most of the stone materials offered by ESF are strong yet not indestructible. Granite is both chip and scratch resistant. Quartz is a hard surface, but since it is manmade it is susceptible to both chipping and scratching. Marble is not as durable and should be treated with care.
Because engineered stone is treated with resin, it is more susceptible to discoloration over time when exposed to direct sunlight.
Applications
Considering the application of your countertop stone is very important. For high traffic areas you may likely want to choose something durable and low maintenance. Granite or quartz are both good choices for a high traffic area. Conversely, you could choose a higher maintenance stone for a lower traffic application. Marble is a good choice for a low traffic area and is typically used in bathroom vanity tops, jacuzzi tops and fireplaces.
Granite continues to be used and approved in food and medical applications. The CDC (Centers for Disease Control and Prevention) has no records of granite harboring bacteria and has no reports of people becoming ill from bacteria in granite. With regular cleaning, granite is far less likely to support bacteria than butcher block or even laminated materials.
If you are seeking a stone with a unique pattern and not concerned about seams or working with a small space, you will have a variety of options in which to choose. Also consider the time and budget you want to devote to cleaning and maintaining the area over time.
Generally, using quartz in outdoor applications is advised against. Most quartz manufacturers do not cover such usage in their lifetime warranties. It may result in fading due to prolonged exposure to UV rays.
Budget
Natural stone carries a lower cost compared to quartz. Most natural stone come from India, Brazil, Spain, China, United States, and Italy and then is exported to the distributor (supplier) in large slabs. It is also important to understand the thickness of the slab you are considering. The thicker the slab the stronger and more durable it will be, but it will also be more expensive. The stone comes in 2cm or 3cm in thickness.
Regardless of the type of countertop stone you select, the complexity of the installation job such as the number of seams, number of corners, and type of sink style you select can impact the overall project cost.
There are no hidden fees at ESF. Your quote includes complementary laser templating, countertop fabrication, and installation of your countertops in addition to the price of the material. You do not pay for the full slab, only for the square footage your project consumes from each slab.
While each project is unique, the general time frame from our laser templating to install is two weeks. After receiving a quote and indicating that you would like to move forward with your project, we will schedule a templating appointment with you to get the ball moving.