Outdoor kitchens are hot. Outdoor kitchen ideas have moved beyond a standalone grill with a small cook space. Popular outdoor kitchen features include bars with sinks, grills that rival any indoor cooking range, appliances such as stainless steel refrigerators, cabinets and luxurious countertops.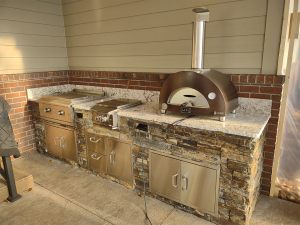 Outdoor Kitchen Design
A well-designed outdoor kitchen works together with its indoor counterpart when cooking or entertaining guests and complements a home's architecture and landscaping. Outdoor kitchen appliances and materials should be durable — designed to withstand the elements. Natural stone counters require sealing on a regular basis. If you go with granite, use cultured granite with UV stabilizers. Avoid highly porous materials such as limestone. In climates with considerable freezing and thawing, avoid tile countertops.
High-quality stainless steel provides a sanitary surface that's easily cleaned and corrosion-resistant. Counters and patio or decking material should be highly resistant to grease stains and able to withstand high temperatures.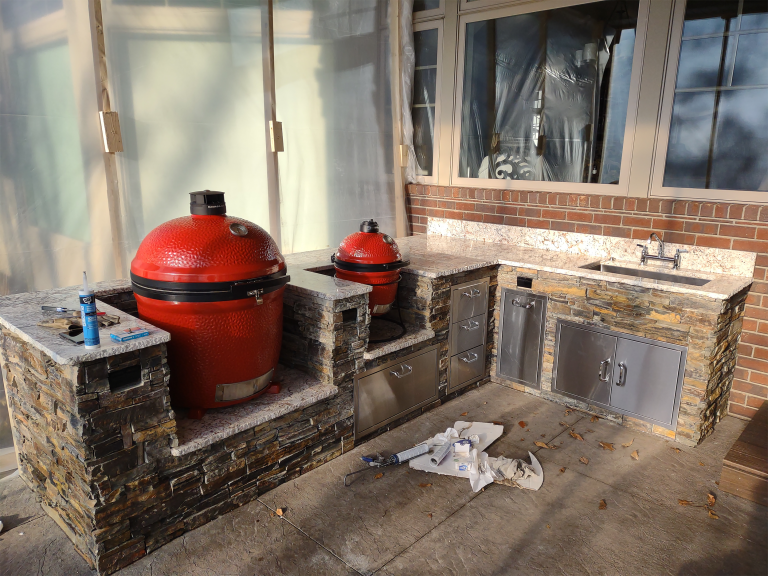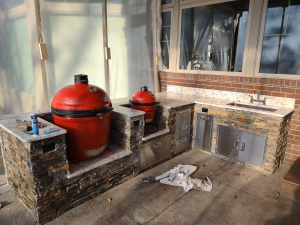 Designer countertops by Elite Stone Fabrication featuring Kamado Joe grill
The most significant difference between indoor and outdoor kitchen design is often the exposure to the elements (shelter and durability considerations). Other differences include more difficulty in running utilities such as water. And there is usually no outdoor wall, so the outdoor kitchen equipment typically defines the room boundaries. "Outdoor rooms bring a whole world of additional cooking options, like open-wood flame or smoking,"
Learn more about the Kamado Joe Grill and other grill reviews
At Elite Stone Fabrication we offer a comprehensive selection of stone and quartz surfaces and fixtures for your home, expertly produced and installed. If in need of a high-quality product of natural or engineered stone, we invite you to visit our Selection Center, where we keep hundreds of full stone slabs on display, made from granite, marble, quartz, and all other materials we carry.
Let our specialists help you choose the material and the design, then custom-fabricate and install your stone product. Whether it's countertops, islands, vanities, bathtubs, showers, fireplaces, or any other type of fixture, Elite Stone will see to it that your needs are met in the most professional and expedient way possible.
Our Selection Center is located at 941 Meyers Drive, Lisbon, IA 52253. If unable to visit in person, you can still browse our full-volume inventory from the comfort of your home using our state-of-the-art Virtual Inventory System!