A recent new home installation by ESF featured both natural and engineered stone products for both the kitchen and living room. The homeowner chose Indian Black Pearl Granite for the island to help accent the kitchen. The countertop perimeter and backsplashes were done in MetroQuartz Luce Lumin. This is an engineered stone. The MQ Luce Lumin stone type was also used as an encasement for the fireplace.
Subtlety
If you want a more subtle look as shown above, the combination of black and white may be the way to go.
The traditional combination of white cabinets and a black granite countertop provides a timeless beauty that can fit for a modern or oldie appearance for your kitchen and bathroom. A sleek white cabinet with modern appliances will have a perfect marriage with various black granite countertop types.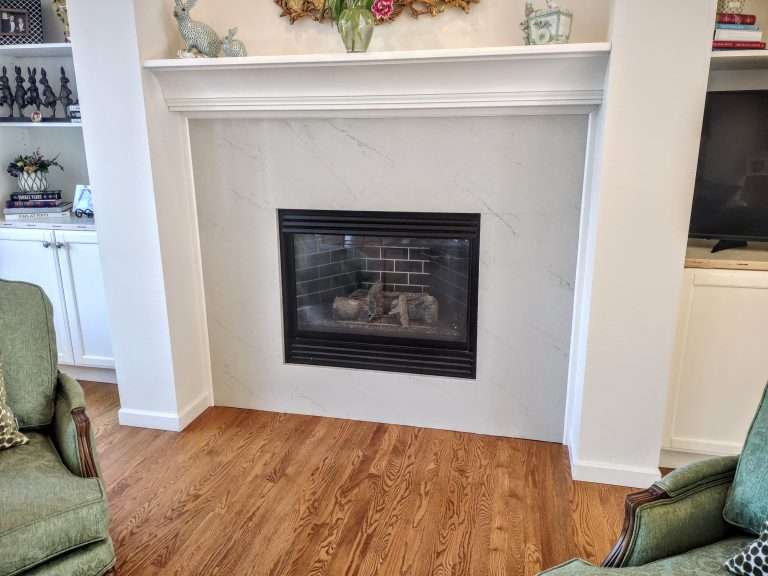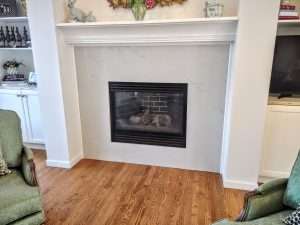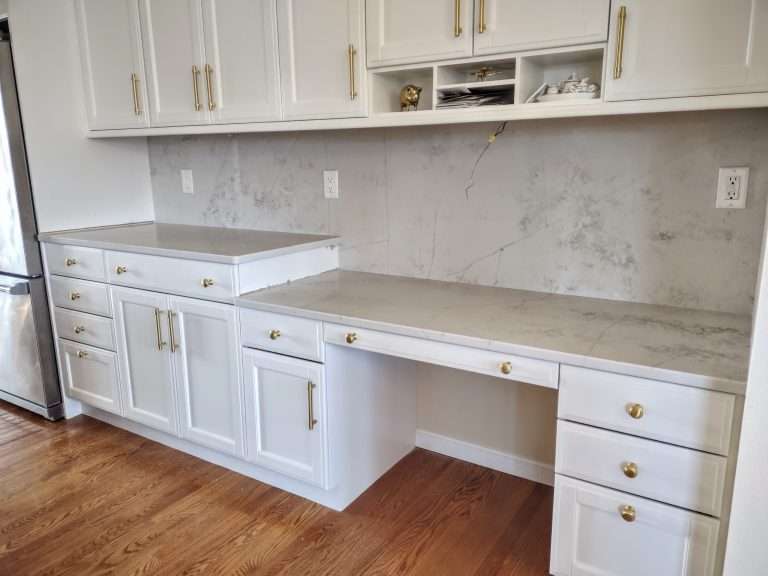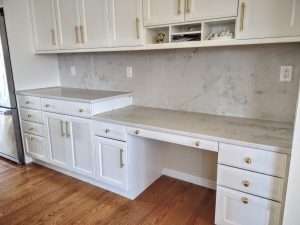 MetroQuartz
The engineered quartz line, MetroQuartz is manufactured by Architectural Granite & Marble (AG&M). This supplier of natural stone is located in Austin, Texas. An emerging trend in kitchens is to install quartz countertops. People who install a quartz countertop are most likely looking for a durable countertop with a touch of elegance that natural stone can bring.
Engineered Stone
While quartz is a naturally occurring stone that is in prevalent in all continents of the world, quartz countertops are completely man made. They are manufactured out of about 90% quartz that is ground up into small pieces. The remaining 10% of the countertop consists of polymer and resin that is used to hold everything together.
Many of the attributes of a quartz countertop mimic that of natural stone. The nice thing about having an engineered countertop is there are more options for the look than what nature might normally be able to provide. To see what is available in quartz countertops, visit the ESF selection center located at 941 Meyers Drive in Lisbon, Iowa. You can touch and see the various color options available there.
Color Options
Like granite countertops, quartz countertops come in a variety of colors. They are available in shades of gray, blue, off-white, beige, gold, or black. The neat thing about quartz countertops is that as part of the manufacturing process, manufacturers can add in elements to the countertops. Frequently, different pigment shades or small pieces of metal are added to the mix that can really make your countertops sparkle. To help in your research visit the ESF online live inventory and filter by material type and color.

Quartz Price Point
Quartz has a range of price points. Some varieties of quartz, especially custom colors and blends can be priced even higher than granite. For the most part though, quartz will be priced just slightly lower than granite. This makes quartz countertops an economical option for those that still love the look and feel of a hard, natural stone, but don't have the budget for it. Our team can help you choose a quartz countertop that will fit within your kitchen or bathroom budget.
ESF has 5 price groups, A-E, plus in stock Promo pricing and Remnants available for various projects.
Black Pearl Granite
Most customers love the shimmering impact a black pearl granite countertop creates with white cabinets and the chrome finish of some metal claddings and appliances in your kitchen and bathroom area.
Your eyes will be mesmerized with the lighting effects of gray and silver flecks present in a black pearl granite countertop. Likewise, you can also see specks of blue and green for this type of black granite.
Among the different minerals used for countertops during remodeling and renovations, granite is one of the most popular and sought after. Many of our customers choose granite because of its durability, low maintenance and cleaning requirements, and its eloquent aesthetics for timeless beauty.
In terms of color, granite usually comes in gray, black, red, blue, off-white, and brown. Among these colors, gray and black granite provides the best dramatic atmosphere for your kitchen and bathroom remodeling.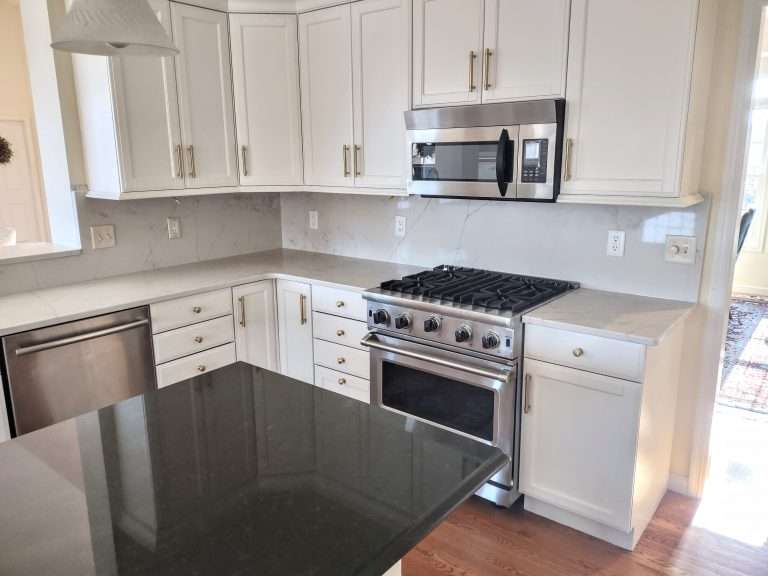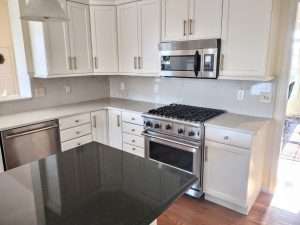 For those homeowners who want a change in their kitchen and bathroom experience, a black granite countertop will provide them with the best aesthetics and dramatic atmosphere.
Black Granite Countertops Pros and Cons
Despite the elegance and timeless beauty of granite, you need to know the positive and negative features of this mineral. Overall, the positive features of black granite outweigh its gripes and still a popular choice among homeowners.
Black Pearl granite is also called Silver Pearl because of the glittering effect of gray and silver flecks around the obsidian black background which mimics the appearance of a shiny pearl. Aside from that, you can also see specks of gold, brown, green, and gray on a black pearl granite.
Using this black granite for your bathroom and kitchen renovation will provide a great balance between light and dark tones. It provides endless opportunities to achieve an elegant modern or classic atmosphere for your home remodeling.
Pros of Black Granite
Elegance – Most people who chose black granite would tell you they chose this mineral because of the immense sophistication and elegance it adds to their kitchen and bathroom renovations.
The rich dark color of granite creates a sense of depth in your space which is a head-turner for most guests.
Uplifts Other Colors – Because of the lack of color, it can enhance other bright colors inside your kitchen or bathroom. It provides a great contrast with your stainless or chrome finish appliances and white cabinets.
Durability and Easy to Maintain – Granite is a mineral known for its hardness and beauty. Its durability is comparable to quartz but with more natural aesthetics to admire.
Cons of Black Granite
Pricey – On average, it costs around $40-$60 per square foot and price varies depending on some factors which include design, quality, color, and thickness.
Prone to Smudges – Because of the lack of color of black granite, it is highly prone to smudges from the oils in our fingers and water rings. However, no problem with that as it can be easily removed by wiping with a non-abrasive cloth.
Sealing and Polishing Maintenance – This setback is not that bad as it can be done once or twice a month for the sealing maintenance. Meanwhile, polishing can be done periodically or at instances where the granite's color becomes dull.
You must never use too acidic or basic cleaning agents on granite countertops as it can remove the sealing cover you have applied for its resistance against moisture.
This black granite is highly dense with good resistance to liquids and does not require periodic sealing. You will never be disappointed with its resistance to scratch, heat, and stains. However, the main gripe about black galaxy granite is its expensive price.
Black Granite Countertops for bathroom
For your bathroom remodeling, choosing for a black granite countertop will have a rich contrast with your white cabinets, fixtures, tile floors, or even a white bathroom wall. Meanwhile, if you want other colors aside from white to contrast with black granite countertops, then choose bronze or gray.
The bronze color provides a smooth transition between gold and brown. These earthy colors complement well with your black granite to exhibit a rustic and classic look in your bathroom renovation. Your black granite also pairs well with a natural wood tone from your vanity cabinets.
In contrast, a gray color paired with your black granite countertop provides a smooth transition from white to black tone. Overall, you will get an elegant modern looking bathroom for this combination. You can also create a different style with black granite countertop to reflect various periods in time. To achieve a 20s look, your black granite countertop must be paired with white fixtures, flooring, or bathroom wall. If you want a contemporary look, then have your black granite countertops pair with metallic fixtures.
 Creating a masterpiece with your black granite countertop is possible when you pair it with the right color of the cabinet. So far, your black granite countertop can fit well with white, gray, and black cabinets. Meanwhile, having wooden furniture will create a warmer and earthy atmosphere in combination with your black granite countertop and white cabinets. Visit any of our Kitchens by Design stores in your area and visit with one of our designers to help select and add professional design support to your project.