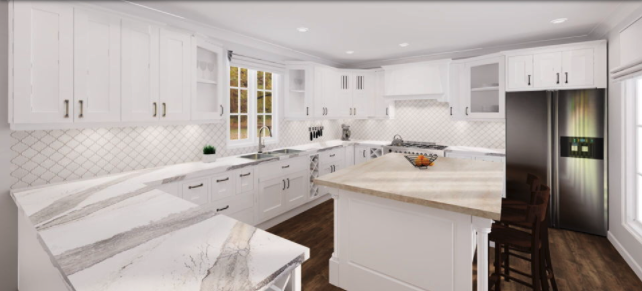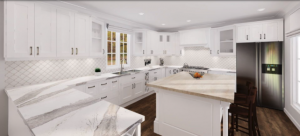 Does quartz require care and maintenance?
Since quartz is a nonporous stone product, there is no need for any extensive additional care. This means no additional sealing, polishing, or reconditioning. To clean spills or dirt, simply use warm water and a mild soap.
Can quartz be damaged?
While the greatest risk of damage to quartz is run before the countertop is installed, the possibility of damage still remains. Quartz is more resistant to damage than other stones, but it can still suffer damage, particularly from heavy objects being dropped or scraped across the surface or edge. Such damage may include scratches or chips. If desired, most damage can be dealt with by professional stone care technicians.
Does quartz withstand heat? 
Due to the resin contained within, quartz countertops are susceptible to damage from direct high heat. Placing hot pots or pans directly on quartz countertops may cause undesirable damage to the surface of the product. As such, the use of hot pads is always recommended.
Is quartz resistant to staining?
Quartz countertops are largely resistant to staining due to their nonporous surfaces. This reduces the potential for bacteria build-up and any other undesired effects of staining. In extreme cases where a liquid sits on the countertop for extended periods of time, staining may occur. Sitting liquid should always be wiped up.
Can quartz be used outdoors? 
Generally, using quartz in outdoor applications is advised against. Most quartz manufacturers do not cover such usage in their Lifetime Warranties. Use in outdoor applications may result in fading due to prolonged exposure to UV rays.
Elite Stone Product Care & Care Kit
With the Elite Stone Care Plan, a stone professional will come to your home once in a twelve-month period to inspect your stone surfaces and apply the care and maintenance below. This includes one room of your choice (usually the kitchen) with the option of adding additional rooms with stone surfaces. The Elite Stone Care Kit contains environmentally safe cleaning supplies to properly care for your stone or quartz.

Learn more: https://www.elitestonefabrication.com/product-care/ 
Viva Quartz
VIVA, is a brand of Pacific Quartz Surfaces and sold at Elite Stone Fabrication. VIVA has the edge on quartz surfaces for its extreme durability, low moisture absorption, high resistance to heat, scratching, stain, as well as resistance to acids, oils and liquids. VIVA comes with a 10-year Limited Warranty. VIVA Quartz is an extremely low maintenance surface that is not easily damaged. Following a few simple recommendations and guidelines for daily use will keep your countertop looking like new for many years to come.