No Excuses
On Friday, August 20th, Spencer Lee, @LeeSpencerlee36 signed autographs for fans at the Elite Stone selection center in Lisbon. It was a fun day for all including food, selfies, and a motivational address by one of the most accomplished wrestlers in US history. Since many of Elite Stone's employees are previous wrestlers or have family members participating in the sport,  Spencer's appearance was special. There were many selfies taken by Jeff Schmatt courtesy of Rubicon Photo in Mt. Vernon. View a gallery of images here.
Spencer also addressed the employees at Elite Stone prior to the autograph signing. He drew many references to the strong work ethic of the Elite Stone team and his workout training schedule. "Always striving for perfection and day-to-day improvement will make you a champion", commented Lee. For our customers, the Elite Stone team also consists of hard-working champions who provide fabrication-perfection, day-in-and-out. Spencer also commented about  his "No Excuses, Just Hard Work" reference with his slogan that appears on his apparel line. It's the way it should be in business as well, he said, "by giving customers the best you can offer."
What's next for Spencer Lee? He has his sights on training and  winning a spot on a future US Men's Olympic wrestling team. See Spencer's announcement in the Daily Iowan. We wish Spencer good luck in his future pursuits to be an Olympian representing, Iowa and the United States in the Olympics — an Elite Champion.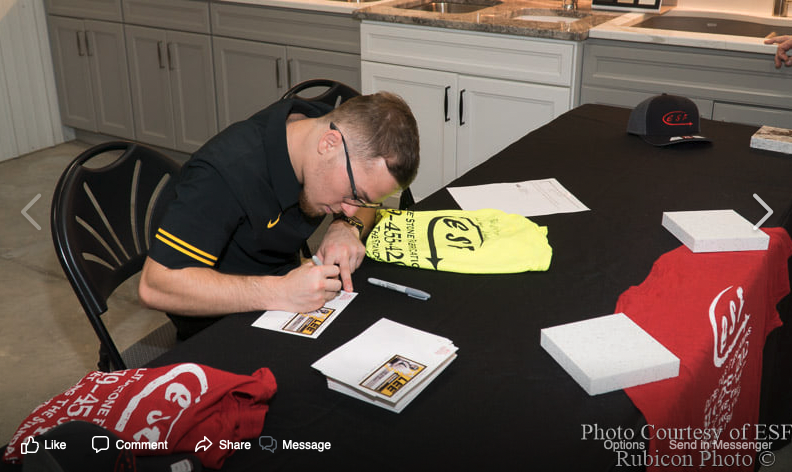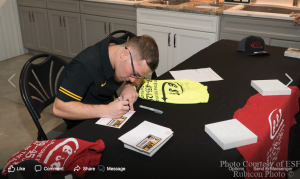 Busy day for Spencer Lee — Signing autographs at Elite Stone Fabrication in Lisbon