When planning home improvements make your outdoor dining space a priority. Outdoor home entertaining is a gourmet affair, requiring easy access to equipment like sinks, grills, stovetops, utensil storage, and thoughtful seating areas. A well-designed and fully functional outdoor kitchen built with granite and natural stone from Elite Stone Fabrications guarantees a memorable outdoor dining experience and increases your home's value.
Natural stone and granite are durable, maintenance-free, and naturally beautiful, making them ideal building materials for outdoor kitchen designs. At Elite Stone Fabrications, we will work with you to create a cohesive look and feel that's unique to your home and bring your vision to life.
These materials naturally prevent bacteria growth, unlike some other surfaces, and they weather beautifully.
Consider these design tips:
• How will you be using this space? How often do you plan to use it?
• Go with stainless steel appliances for durability and easy cleaning.
• Make sure to include room for storage if you will be keeping pots, pans and other kitchen essentials outside.
• Don't forget lighting! "It's hard to see food cooking on a grill at night, so you need bright task lighting.
Landscape Stone
The advantage of using stones is that they are offered in a variety of styles and offer long-term durability. It's really a win-win! Homeowners use stones to dress up the ground in their outdoor living spaces, but don't think of continuing the theme with stone outdoor kitchen countertops.
Not only are landscape stones offered in a variety of colors, but they are also offered in an array of textures, allowing you to really get creative with your outdoor kitchen countertops. Match your countertop to your patio slabs or select a unique stone that will stand on its own. The choice is yours!
Furthermore, landscape stones also benefit from long-term durability. When selecting an outdoor countertop, the key is choosing a material that can withstand the outdoor elements year-round. That is what landscape stones offer you: long-term durability and color-resistance.
Granite Countertops
This material is the toughest, most durable type of stone on the market. Granite will not stain, comes in different varieties (honed, or polished) and holds up well to outdoor elements, such as cold and hot weather. It also does not scratch or etch as easily as other natural stone options.
Tip: If you're looking for a natural stone option for your outdoor kitchen countertop, granite might be your best bet!
With a proper coat of sealant, granite is also resistant against stains, mold, and mildew so even the messiest gatherings or rainiest days won't pose a threat. This natural stone is already very easy to maintain, but with a proper sealant, it will be even easier to take care of. Depending on the density of the granite you choose, you may only need to seal it once, but sealing it once a year will keep it looking fresh and pristine for your outdoor gatherings.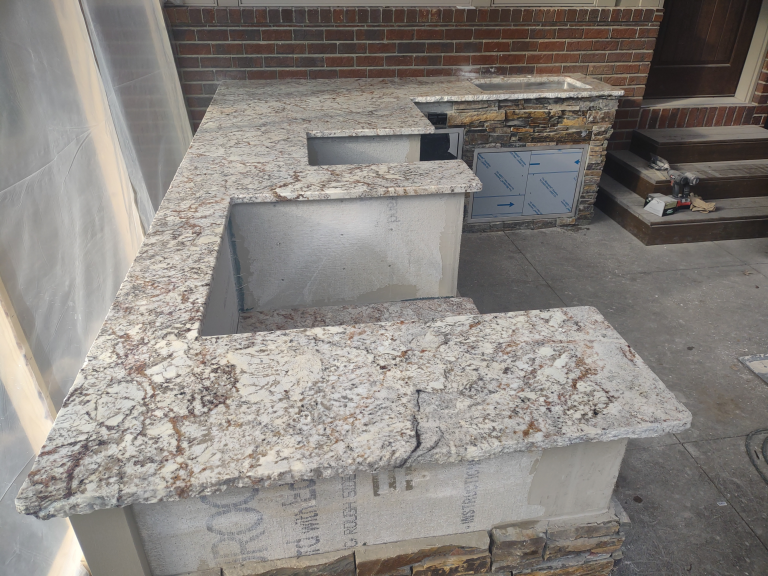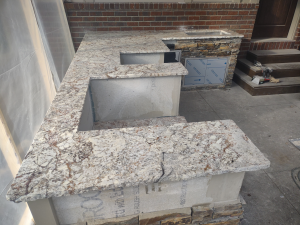 What about Quartz Countertops?
This countertop material, while it does not need to be sealed, may discolor in the sun and is likely to not hold up in warmer climates. So, depending on where you live, that could be an issue for you.
Tip: If you really want a quartz countertop, talk about it with your Elite Stone designer. They will be able to guide you towards your best options!