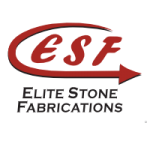 ESF – Elite Stone Fabrications
Installer
We're in the business of creating and installing high-quality surface solutions of natural or engineered stone products for contractors, builders, home remodelers, and designers. We specialize in kitchen and bath countertops. We have a long-standing tradition of providing quality workmanship and quick installations dating back nearly three decades.
Installer Requirements and Skills
Work with our Moraware project software program
Be skilled in problem solving and adaptability
Capable of using various power tools and measuring tools
Occasional interaction with clients and subcontractors
Follow thru with each project to completion in a timely manner
Travel with other team members to various installation sites in Iowa
You must be able to lift 75lbs. or more
Have a valid driver's license
Be dependable with a good work ethic
Job Location
Our fabrication plant, warehouse, and selection center are in Lisbon, IA. Our installations span eastern and central Iowa with growth in other markets.
Benefits
ESF offers a competitive wage based on experience. Starting wage is $20/hr. Benefits include health, dental, and vision insurance, paid PTO, and holidays. A Simple IRA plan is available. We provide a pleasurable work environment where you're treated like family.
Apply Now
You may apply in person between 8 am to 4:30 pm M-F and until 1:00 PM on Saturday at our selection center located at 941 Meyers Drive in Lisbon. Hiring manager is Adam Jennett or send your resume and application as attachments to [email protected].
For more information contact Adam Jennett at (319) 450-0777.
Downloadable Job Application
job-application-form-template-download-standard-2017081